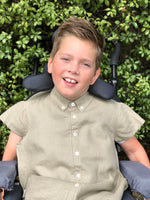 So good it even fooled Dad!
Only those in the know will realise what you are wearing.
Bibulous bibs look so much like ordinary clothing that a superhero-speed costume change by mum will leave everyone speechless! How did she do it?
The secret is that there is only one fastening, a secure popper at the back of the neck.
No wrestling arms into sleeves, no slam-dunking over the head moves, just popper on and away you go.
Shop the range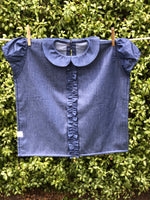 About the Bibs
Bibulous Bibs are stylish & practical.
Designed to keep the chest dry & protect clothes. The absorbent & quick drying backing conceals drool & is comfortable to wear. The outer is made from premium cotton & linen.
Created with love & inspired by my disabled son Rex. I hope that in my small way I can empower others with confidence & style.